If you're looking for the perfect destination for a day trip with your sweetheart or a weekend excursion with the family, look no further than Fluvanna County. Whether you want to take in the wonder of the outdoors, get in touch with local arts and culture, enjoy the bounty of a booming agribusiness, or learn about the history of the area, you can find exactly what you're looking for right here.
Art Adventures
A number of brilliant artists, skilled artisans, and gifted performers call Fluvanna home, enriching and enlivening the culture of the area to benefit us all. There are a variety of ways to take in their talents on display—enjoy yourself and support local artists all at the same time!
There's no better way to sustain local makers than to buy their creations. Visit Sweet Art Emporium, a Palmyra gift shop showcasing locally crafted items and Virginia-made sweets, to shop the works of more than 80 local artists and artisans. You'll find fine art, jewelry, woodwork, handicrafts, mosaics, handwoven baskets, candles, and so much more. To further support makers in the area, Sweet Art Emporium offers art workshops, seasonal markets and arts festivals, and other events throughout the year. You can also feel like a maker yourself while you're there—they offer paint your own ceramics!
Another way to immerse yourself in the local arts scene is by taking in the talents of local performing artists. The Carysbrook Performing Arts Center in Fork Union is home to the Fluvanna County Arts Council, which hosts art, musical, film, youth, and comedic performances throughout the year. Check their calendar, purchase a ticket, and prepare to be wowed!
Want to learn more about artists in the area? Mark your calendar for the annual Art Studio Tour event, which is held by ARTS of Fluvanna County in October each year. Tour the private studios of more than 30 creators at your own pace, with opportunities to meet the artists, learn about their processes, and observe—with a chance to purchase—their finished works.
Parks & Preserves, and Three Rivers Run Through It
There's so much of the natural world to explore in Fluvanna. If it's adventurous outdoor activity you're aiming for or just a scenic sightseeing stroll to enjoy the flora and fauna, you can be certain it's waiting here for you.
With three rivers flowing through it—the James, the Rivanna, and the Hardware—Fluvanna is a fantastic spot for water recreation, from fishing and floating to canoeing and kayaking. To get the most out of an excursion, book a guided paddling tour with Rivanna River Company. Available on Saturdays during the warmer months, the 6.5-mile-long Fluvanna Scenic Cruise is perfect for beginners and offers an opportunity to take in the sights and sounds of the river and its wildlife. Kayaks are available to rent from Fluvanna County Parks and Recreation, whose kayak livery is at the Pleasant Grove House.
If you prefer dry land, you'll love Pleasant Grove Park. The aptly named recreation area boasts 21 miles of multi-use horse riding, mountain biking, and hiking trails. For a slower pace, walk along the scenic meadows and pack a picnic to enjoy at one of the site's four shelters. Avid golfers will love the 18-hole PGA Championship Golf Course at Lake Monticello. While the lake's other amenities are reserved for homeowners and their guests, the golf course is open to the public. If cycling is more your speed, you can take in the area's scenic views while completing part of the TransAmerica trail, which runs from Missouri to Yorktown. Mark off 22 of the 533 miles that make up Bicycle Route 76 without ever leaving the county!
For birdwatchers, Fluvanna is home to two must-visit spots—Fluvanna Ruritan Lake and Scheier Natural Area. No matter the season, keen eyes are sure to spy a number of different waterfowl at the lake, like great blue herons, ospreys, northern shovelers, ruddy ducks, and more. Just a short drive away, the 100-acre wildlife preserve is home to Carolina chickadees, tufted titmice, eastern phoebe, and countless more avifauna.
Food & Drink, Alpacas to Meet
Agriculture is a dynamic part of Fluvanna's fabric. Whether it's fresh food, wonderful wines, or unforgettable experiences you're after, you can find that and much more when you visit the working farms in the area.
Find the freshest foods when you visit one of Fluvanna's many farms, farmstands, or markets. For locally grown seasonal produce, visit Fruit Hill Orchard and Crossing Brook Farmstand—each grows its own selection of fruits and vegetables—and you can even pick your own fruits! For pasture-raised meats, local honey, and other food products, there are many farms in the area to visit, including Salt and Pepper Farm, Hidden Springs Family Farm, Modesto Farm, and Chevy Chase Farm.
Whatever the season, the doors are open at two award-winning wineries in the county. A lovely gathering spot for friends or romantic rendezvous for just two, Cunningham Creek Winery creates small-batch French varietals and blends. The family owned and operated boutique winery is welcoming to families of all ages—and even dogs are encouraged, as they have a dog park on premises. Stop by on Saturdays to enjoy live music and be sure to check their events calendar for fun festivities throughout the year. Get the weekend started right with a visit to
Hardware Hills Vineyard, where you can listen to live music, try snacks from their light fare menu, and sample from their extensive wine selection. Don't forget to try the renowned sangria, made fresh on-premises from estate grown grapes and assorted fruit juices. Feel like you could relax here forever? No problem—there's an adorable cottage on the property you can reserve for an overnight stay.
For a unique experience you won't soon forget, visit Sacred Acres Farm to commune with the friendly alpacas who live there. Hand-feed them—or even take an alpaca for a walk! The alpacas are raised on the farm for their fiber, and visitors can shop beautiful items made from their wool.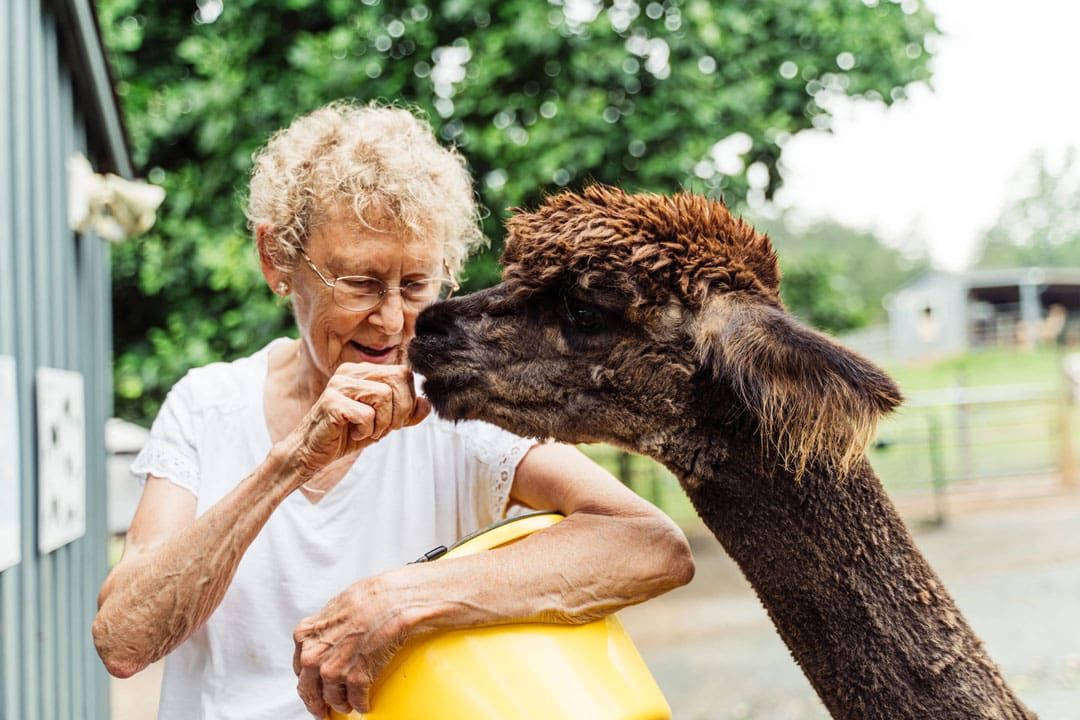 A Walk Through Time
By visiting the many historic sites Fluvanna has lovingly preserved or reconstructed, you can take a walk back in time, immersing yourself in the deep roots and rich history of Fluvanna.
With a heap of Virginia history and a side of smalltown charm, the Palmyra Self-Guided Walking Tour features both original and recreated buildings and landmarks that help tell the story of Fluvanna's rich past. The tour, which was recently updated by the Palmyra Area Revitalization Committee, is split into three sections based on location—the Green Tour through the Village Center, the Blue Tour through the River District, and the Red Tour through the North End. You can download the guide online and complete this path through history at your own pace and based on your own interests. Highlights include the former Fluvanna County Courthouse, Maggie's House, the Rail Trail, and the Village Park.
In addition to the walking tour, visitors can also tour the interiors of some of the buildings maintained by the Fluvanna Historical Society. Highlights include the Old Stone Jail, which was built in 1828 and operated for more than 100 years. It now lives on as a museum, telling the stories of the county through artifacts and displays of historical interest. Likewise, the Fluvanna Farm Heritage Museum, located at Pleasant Grove Park, pays tribute to the importance of agriculture to Fluvanna's livelihood, providing a look at the evolution of the area's agriculture from 1865 through 1965. The museum is filled with antique farming equipment from the collection of John May and other local collectors.
Laura Drummond is a professional travel and hospitality writer based in Charlottesville, Virginia. A native of the area, she is an expert in all the things to see and do, eat and drink, explore and learn in Charlottesville and the surrounding counties. Her work has appeared in Garden & Gun, Virginia Living, and Good Grit. www.bylauradrummond.com